If you need access or create a document inventory of important emails, letters, or agreements on an unfamiliar computer (PC or Mac) or iPhone, perhaps after a bereavement, Aleka Consulting can offer the following services:
Don't have the password to the computer? No problem – Aleka can reset it for you.
Aleka can scan your computer (and any storage devices) for electronic documents created by Microsoft Word, Excel or PowerPoint, and documents in PDF format and produce a listing or spreadsheet of document names, the folder where they are stored, when they were last modified, the first part of any text extracted from them, and what the text seems to be about.
Email has become a critical part of home computer use. It is widely used for correspondence, receiving renewal reminders and receipts for payments. Aleka can create a listing or spreadsheet of all emails sent and received from emails accessed via Microsoft Outlook or using a browser from Gmail, with the subject, sender, recipient(s), date and the first part of any body text in the messages.
Image Scan
Domestic computers are frequently used to store images from digital cameras and smart phones. Aleka can give you a list or spreadsheet of digital camera image files (.jpg format) and the folders containing them.
Mobile Phones
Aleka can retrieve photos from iPhone backups on computers.
Scanning
Need to share old slides or photographs? Aleka has modern scanning equipment and software which can make the scans look better than the originals.
Results
By presenting all the files and email messages found by the scan as a list, the user is relieved of the  job of exploring the folder tree to locate files of interest. Sample inventory results are shown below: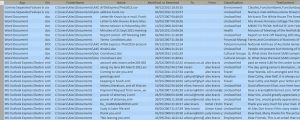 Columns in the inventory results are as follows:

App: Name of application which created the file - obtained from file extensions
Ext:  Extension of file name 


FolderName: Path to folder containing file


Name: file name
Modified or Received: Date of file modification or email receipt
To: Email recipient (blank for files which are not email messages)
From: Email sender
Classification: What the text in the email or file is about


TextContent: First part of text content of file


The scan result spreadsheet can be filtered or sorted to locate files or email messages with particular attributes
Contact Aleka to arrange creation of your inventory.